Is Working from Home Right for You?
Working from home is hardly a new concept in the South African context. Indeed, many of us have been successfully making money this way for years. The internet has expanded opportunities for a work from home situation, but there are many other possibilities as well. What's more, not having to commute is one big plus to start with.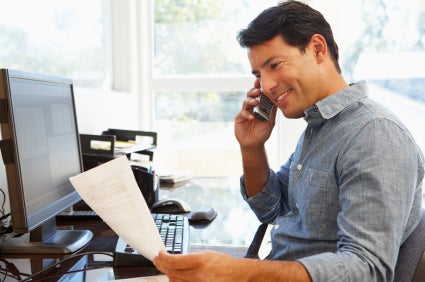 No "Walk in the Park"
Equally, there are some pitfalls too, with a lack of self-motivation and discipline representing two potential minefields. Here, we examine the joys and heartaches of self-employment from home. Use the self-assessment section at the end of this article to gauge your individual aspirations. Remember to avoid any knee-jerk reactions, such as handing in your notice at your present workplace right away. Rather weigh things up carefully before you end up throwing the baby out with the bath water. Jobs are scarce in South Africa, so think before you act.
Historically Speaking
The idea of employees working out of sight and without supervision was an anathema to employers for many years. Traditionally, a centralised production line was the responsibility of a dedicated workforce. Each worker held a particular task or function, as the manufacturing process moved slowly along the production line until the finished goods trundled off the conveyor belt eventually. This is still true of traditional factories: but what about clerical and administrative jobs? Surely, there is merit in working from home in at least some cases?
How Working from Home Began
Some say the work from home concept first arose when expectant mothers went off to have their babies, and then sat around the home attending to their new-born bundles of joy. Maternity leave became a standard feature of employment contracts. One day a smart manager realised this no longer needed to happen. And so arose the work from home option, although this was never designed to be a generic solution for every situation. In some cases, the concept was simply not viable.
As employer-employee relationships improved over the years, go-ahead companies realised that harnessing the talents of some of their workforce could just as easily happen from home. This also resulted in a more contented employee who could now balance their time effectively between work and domestic responsibilities. This arrangement was fantastic so long as productivity continued; in a number of instances, it actually improved.
Discipline vs Distractions
Looking at the attributes required to ensure a successful work from home situation raises the usual time management issues. It all boils down to target setting and achievement of set objectives. Some may argue that it really does not matter if you sit on the beach, that is, if you have one nearby, and enjoy the sun all day while achieving or even beating your sales targets via your Smartphone. It is all about planning your daily activities. Some people flourish under pressure while others wilt. Working from home can help to keep a balanced flow, without the distractions of colleagues continually interrupting you.
Applying one's self to the task in hand is what productivity is all about. You have to adopt a disciplined approach to the regular distractions that are going to happen around you, as you work from home. It could be a knock on the door, a phone call, or your kids demanding attention. Learn to manage your way around interferences and stick to your game plan. Create a dedicated office space in a pleasant and quiet room in your house. Make sure you have a door that you can close when it is time to get on with your work. Grab hold of one of those "Do Not Disturb" signs that you find in your hotel room when travelling.
Saving Time, Making Money
Once you have gained success through a work from home situation, you are unlikely to be easily tempted back to the office. This is because you get to setting your own targets and then achieving them. Facing the responsibility of bringing in your own earnings every month is a sobering thought, one that can have you waking up in panic mode in the middle of the night. The prospect of no automatic pay cheque at the end of the week or month is usually sufficient motivation – put bluntly, you have to cut it. This means measuring each assignment carefully in order to achieve maximum return from minimum effort.
Beware of the Downside
Every job has its own "hate to do / have to do" tasks. Working successfully for yourself requires stealth and cunning in your approach to your individual situation. You must set targets and then realise them, your financial well-being will depend on this. It does not help at all to defer your client because you feel unwell, or your cat needs to visit the vet urgently. It is all about commitment, quality and delivery, and each of these will influence the viability of working for yourself from your own home. One obvious advantage is you get to spending more time with your family. Be careful though, this must not become an obsession or even a distraction. Work must always hold the highest priority.
The Perfect Setup
Working from home is increasing in popularity right around the planet, and South Africans are enjoying the benefits as much as any other country. One of the ideal jobs to run from home is computer work. In many cases, your company will be happy to set you up with the skills and equipment that you will need. Formal training can prove vital in software development tools such as Java, Visual Basic and HTML.
Once up to speed, you can decide when you want to work, and for how long too. Make sure you have the correct tools of your trade to get you through your workload. A good internet connection is vital to any computer-related job. A Smartphone will help with mobility, and is essential for booking important meetings and making sales.
Working from Home for Yourself
One of the oldest and most popular forms of work from home is running a day school for the local pre-school youngsters. Make sure you understand the statutory regulations put out by your local authority, and comply with health and safety issues model. As a general rule of thumb, it is always best to legalise any new business operation before opening your doors for business. Otherwise, you could run the risk of closure and even fines or lawsuits, if you go ahead without due consideration of what the law says.
Checklist
Working from home, whether for your own account, or for an employer is not ideal for everyone. Do you have what it takes? If you see yourself in most of these boxes, then you could be a good candidate for a work from home / work for yourself situation:
| | |
| --- | --- |
| I AM SELF-MOTIVATED | I AM FOCUSED |
| I AM RESULTS-DRIVEN | PASSIONATE ABOUT MY WORK |
| I AM A PERFECTIONIST | I WORK WELL UNDER PRESSURE |
| I LOVE SETTING TARGETS | I GUARD MY REPUTATION |
| I TIME-MANAGE MYSELF | I LIKE CHANGE |
| I LOVE TO SUCCEED | I ABSORB NEW CONCEPTS |
| I CHECK MY WORK CAREFULLY | I AM NOT EASILY DISTRACTED |
| I KEEP TO PROMISED DEADLINES | I AM NOT A CLOCK-WATCHER |
If you have read this far, then the chances are good that you are ready for some of that work from home action! Are you ready to give it a bash? This could be your wisest decision ever.